Embark on an 8-week inner quest that can
transform 
the way you experience your emotions and
revolutionize 
your life and relationships.
What benefits can a course on Emotional Intimacy
bring to your life?
Deepen your understanding of the major emotions in a way that gives you skills for transformation

Increase your emotional intelligence–a skill that correlates with better relationships, improved social supports, and less conflict with others

Break free of old emotional patterns that hold you back

Reduce reactivity allowing you to experience more ease, connection, and emotional freedom

Discover the surprising role challenging emotions play in your wellbeing

Become more intimate with your undiscovered emotional self

Improve your relationships through greater emotional competence and self-knowledge

Learn to get off the rollercoaster of toxic emotional interactions that create conflict and pain

Discover more joy, resilience, and inner ease
Our Journey…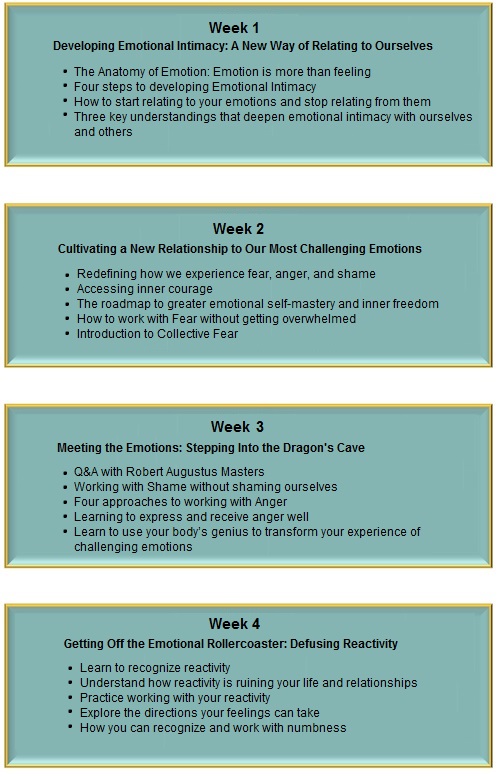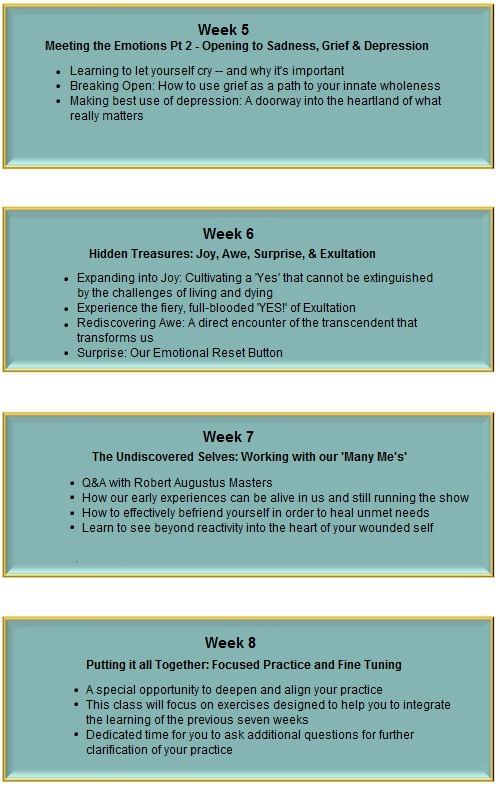 Enter a unique experiential learning environment 
held with deep consciousness and compassion.
Connecting With the Power of Your Emotions 
includes
original content, intimate Q&A,  guided meditations
and solo practices, 
as well as partner exercises.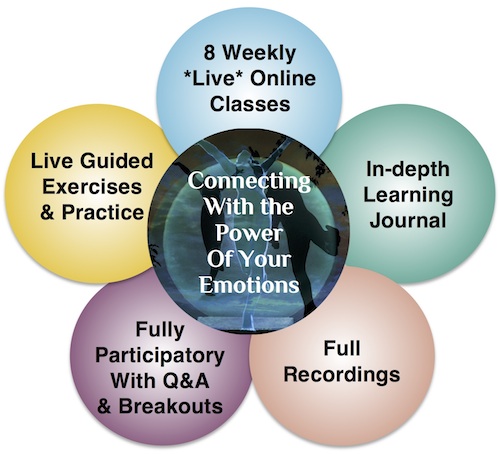 We will learn together in eight weekly 2-hour teleclasses (Wednesdays, March 29, April 5, 12, 19, 26, May 3, 10 and 17 at 2:00-4:00pm Pacific Time). 
All classes will be recorded and made available within 48-72 hours of the class for those who are unable to attend live.
Each week you will receive a Learning Journal specifically designed to support you in getting the most out of our time together. With guided pre- and post- class reflection questions and homework exercises, the Learning Journal will allow those who want to go deeper additional opportunities to get in touch with the emotions and skills we will be working on in each class.
Taught by Iyeshka Farmer, RPC, Senior Teacher/Trainer with the Masters Center for Transformation. The course will utilize and expand upon the book, "Emotional Intimacy: A Comprehensive Guide for Connecting With the Power of Your Emotions," by Robert Augustus
Masters, PhD. Robert Augustus Masters will make special guest appearances during two of our classes (April 12 and May 10) for live sessions of discussion and Q&A. This is a rare and precious opportunity to speak with Dr. Masters directly.
Praise for Iyeshka's courses: Emotional Intimacy, Knowing Your Shadow, and Meeting The Dragon:
I came with high expectations and I have received much more than I expected. Excellent content and information, the group really came together and the relationships continue after the course is finished. I found it a much better introduction to Robert Augustus Masters' work than reading a book.

Kamil, (Australia)
I feel the study group provided me with a gentle and powerful guidance in turning towards and embodying my pain…which enabled me to embrace and feel more at ease with it. Turning towards my pain is a gift I can give to myself to become more intimate with who I am. I have also seen the benefits of this practice in my own coaching clients.

Joan Curran (UK)
Iyeshka has an extraordinary ability for clear presentations and guiding the group through deep self-explorations. Learning to note and name my sensations, feelings and emotions in painful experiences was most useful for me.

M.R. (Germany)
This course was very powerful for me. Iyeshka's way of working with difficult feelings is a big part of the course. I felt in her presence a profound commitment to this work, and a warm, tender and loving way of being with such challenging experiences. She inspired me to participate fully, without fear of how I might appear. I am grateful for the opportunity to do this kind of work online. I don't think many other people are offering such courses.

Shayla Wright (Canada)
The Meeting the Dragon course, for me, was the kind of thing where I felt like saying, "Where have you been all my life?" They don't give you a handbook when you're born, on how to deal with what life throws at you. But if they did, this would be part of it.

Dawn Lamond (US)